Hooked On Utah TV Show Films the Schenk Knives Knife-making Process.
We've known Gary Winterton for quite some time, and were excited to finally have a chance to show him around our factory. If you're not familiar with Gary, he's the host of the West's newest and most exciting fishing, hunting, and outdoor adventure show, Hooked On Utah. Each week, Gary takes you on a new adventure, teaching you the skills, techniques, and tricks needed to be successful in the outdoors. On a recent tour of our manufacturing facility, Gary was so impressed with what he saw, he decided to make an episode dedicated to Schenk Knives!
We started the tour in our blacksmith's shop, where we hand-forge all of our Damascus steel. Every Damascus blade is created by forging 1080 high-carbon steel with 15N20 nickel alloy. Our blacksmith heats the 25 layers of steel to welding temperature, then hammers them together until they are welded into a solid billet. The billet is then twisted and manipulated, heated and welded, until the desired pattern develops. When he's done, he has a bar that is 250 to 300 layers of welded steel and carries a distinctive and unique pattern all the way through. That bar is then cut into the rough shape for a specific knife design and sent to the blade grinding shop.
Gary was able to follow a single knife through all of its processes, and was amazed as our artisans went to work on the knife blank. We are proud that the blades made at Schenk Knives are shaped and ground by hand. That pride is evident in every blade we produce. After the blades are shaped and ground, they need to be heat treated. During this process, the blade is heated to over 1500 degrees then immediately quenched. At this stage, the blade is brittle and would shatter if dropped. The blade must be tempered, which makes it less brittle and allows it to bend without breaking. Attention to detail here is very important, and great care is taken to ensure these process are done correctly.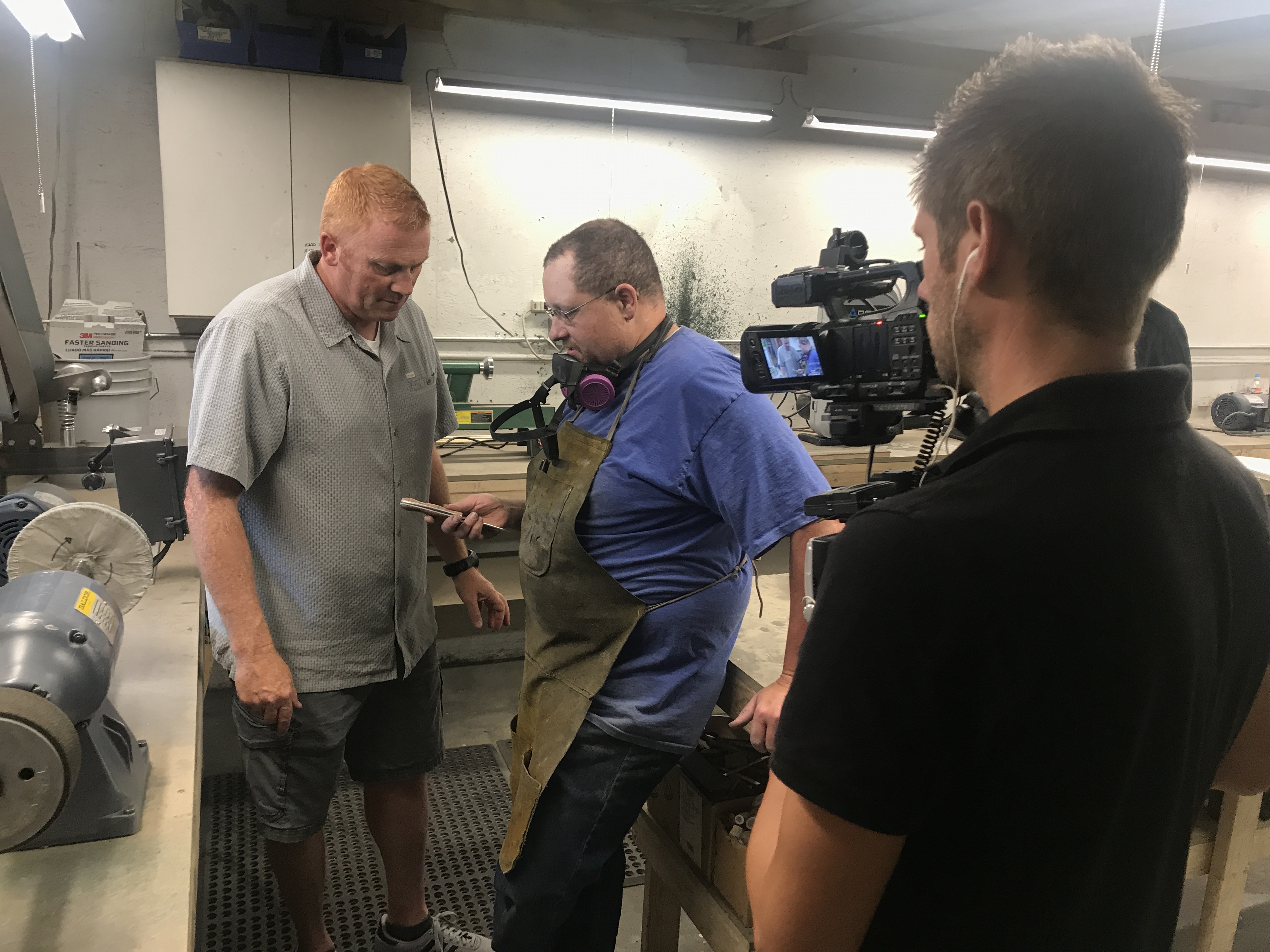 As you'll see in Gary's video, the next step is to polish the blade so it can be etched in acid. The acid reacts differently with each type of steel and darkens the carbon in the 1080 as it eats away the surface. The etching process reveals the pattern hidden in the steel, and shows every twist and bend of the blacksmith's labor. Gary's knife was forged using our Spider Twist Damascus pattern. We can create over 20 different Damascus patterns, each one presenting its own unique look and style on the blades.
Putting handles on blades is like putting icing on cake, it only makes it sweeter! Gary picked out some really nice redwood burl scales for his Skeleton 2.0. Like all of our custom scales, they were hand-cut and stabilized by the founder of Schenk Knives, Norm Schenk. Being a true craftsmen, Norm is meticulous and passionate about everything he makes. From dyed and stabilized wood, to hand-crafted resin and unique burl, Norm can do it all. After nearly 30 years in the knife industry, Norm still gets excited about making custom knives.
Every good knife needs a quality leather sheath. For that, we use 8-10 oz. vegetable tanned English bridle leather, supplied by our friends at Wickett & Craig. The custom sheaths that come out of our leather shop are hand-crafted and wet-formed for each individual knife to ensure that every one fits just right. Our craftsmen love making custom sheaths that include hand-tooled or laser-etched designs. They are also industry leaders when it comes to making high-volume production sheaths, and can turn out upwards of 80 sheaths every day.
The final process for Gary's knife is making sure it's wicked sharp. For that, we started on a belt grinder. Our standard belt-ground sharpening leaves a fine edge, perfect for the field or the kitchen. With Gary's knife, we took it one step further by giving it a Wicked Edge. This hand-sharpening process allows us to create a perfect edge on an exact angle every time. The edge is started with a rough grit stone and worked by hand until it has a mirror polish. Finally, it's stropped with leather and honed until it's an absolute razor blade.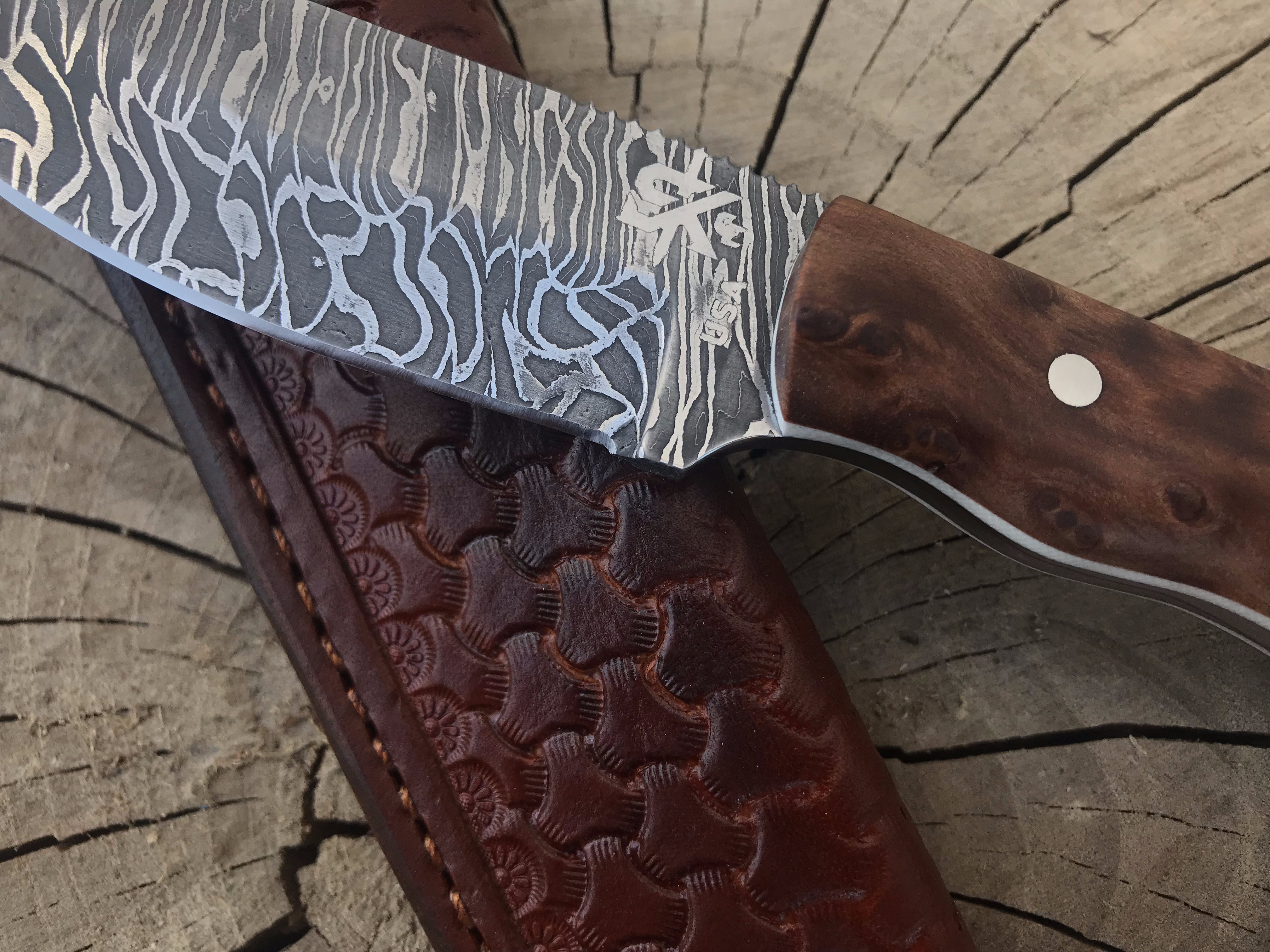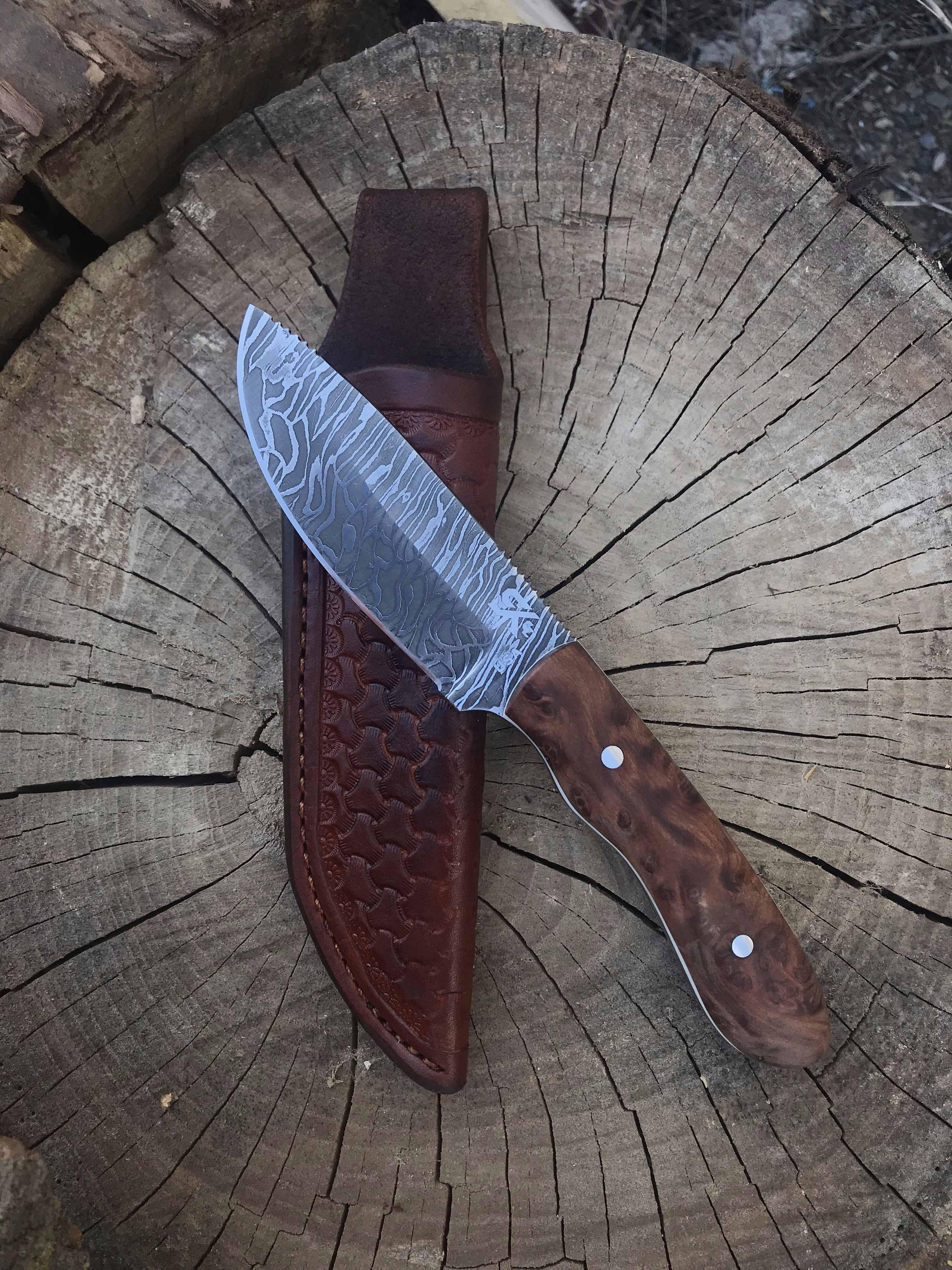 All of these process were done under one roof, at our factory in Idaho Falls, Idaho. As an OEM knife company, we've made knives for many of the brands you're familiar with, and many more that you've never heard of. We produce thousands of knives and sheaths each year to fulfill client orders, and make hundreds of custom pieces for collectors and discerning knife lovers around the world. Our branded line of Schenk Knives features a knife for every use; including hunting, tactical, compact, survival, and every-day-carry. We just finished our first folding knife, the Wind River, which will be available very soon. Also, look for our distinctive Odyssey kitchen knives that will launch in the coming weeks. Drop by our factory store or visit us online to see our branded knives, custom pieces, tomahawks, and axes.
It doesn't matter which style of knife you carry or what activity you're into, we've got you covered. Schenk Knives...everywhere you want to be.